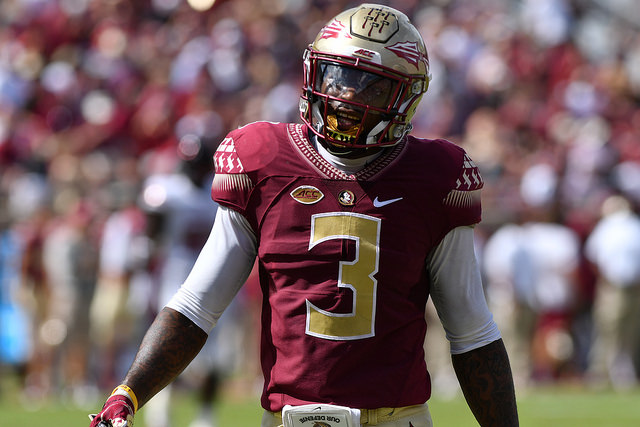 Florida State Safety Derwin James Selected 17th Overall By The Chargers
Florida State safety Derwin James selected 17th overall by the Los Angeles Chargers. The 21-year-old safety played with Florida State from 2015-2017 but only played two games in 2016 after tearing his meniscus. James Derwin stands 6 feet 2 inches tall and weighs 215 pounds. He's a sizable safety with the ability to be extremely versatile on the field.
College Career
He did well in Tallahassee, totaling 186 tackles, with 5 and a half sacks and three interceptions in his career. Some of his college highlights include the 2015 Peach Bowl, in which he had 14 stops, 2 for a loss and one sack against a tough Houston team.
James is known for having a strong ability to read the quarterback and make the right call identifying where to help out the corners. Most experts already considered him to be one of the most impactful secondaries in college football. He earned AP All American honors and first-team All-ACC honors in 2017. Derwin should make a sizable impact in the secondary in 2018.
Combine Numbers and Outlook
His combine numbers showed off his impressive speed. He ran a 4.47 40 yard dash, which will give him a strong advantage closing the gap on receivers. However, he also had a 40-inch vertical jump and a 132-inch broad jump, which is above average for free safeties. Also impressive was his 21 reps at the bench press. This is also above average for a free safety. This gives further evidence for his prowess as a free safety and should make a significant impact on the team.
Fans should be quite excited that Derwin James was selected by the Chargers. He is known to be a great leader and very athletic. He provides a good mix of pass coverage and ability to make open-field tackles. James looks to be a strong player in both the locker room and on the field.
This article was originally written by former TSJ101SPORTS MLB Department Head and writer Brennan Frawley. Due to systems modalities, the article has been assigned to the author tag designation "Former Writers".