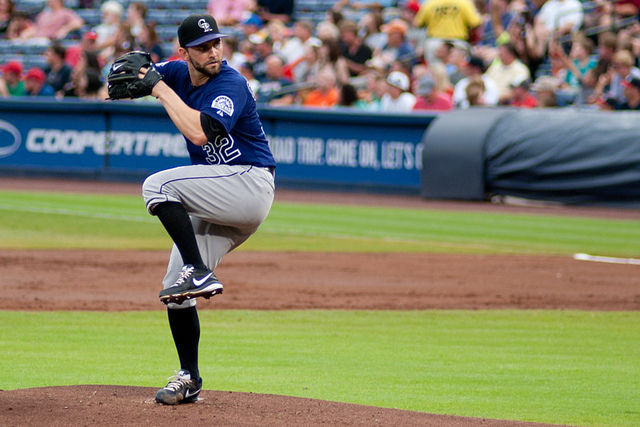 Chatwood Gets First Win As A Cub
The Cubs and Indians met for the first time since the 2016 World Series and I have to say I was excited for the matchup. Although the game wasn't close, the Cubs still got a win and there were a lot of good signs that came out of today's game. I think the most important outcome of today's game was Chatwood being able to go 6 innings with just 1 earned run on 4 hits. Most importantly, Chatwood was able to get his first win as a Cub. The offense once again seemed unstoppable, almost as if they took a page out of the Boston Red Sox playbook. There are a lot of good things I'm seeing that will dramatically help the Cubs moving forward.
Pitching
The Cubs had a very favorable matchup on the mound tonight with Chatwood going up against Josh Tomlin. Chatwood coming into today's game had an ERA over 4, and after this start, it dropped below  4. As I had said earlier he was also able to get his first win as a Cub. Chatwood's command seemed better, he only gave up 5 walks this start, while also striking out 5. I'm starting to feel more comfortable with Chatwood moving forward. If he could just cut down on his walk rate he would be a tough pitcher to hit. The starting pitching this time around has looked better. Chatwood is probably the most improved from his last start, and really hope he can hold down the end of the rotation.
Tyler Chatwood final line- 6.0 IP, 4 H, 1 R, 1 ER, 5 BB and 5 SO
Offense
The offense again today looked almost unstoppable, collecting 10 runs on 15 hits. I'm happy to see a higher conversion rate of base runners into runs, something they had struggled with so far this season. Also worth noting, Baez was able to keep up his impressive hot streak with 2 doubles and an RBI.
The Cubs have won 4 of their last 5 games, and in those 4 wins, they have scored 43 runs in total. Another fascinating fact is when the Cubs win they average 9 runs a game. Although when they lose they only average 3 runs a game. The Cubs will have to find an identity at some point before the all-star break, or its gonna be a rough season.
Anthony Rizzo who had started off very slow to start the season collected a couple hits in very clutch situations and also collected an RBI his 5th on the season. Addison Russell who has been struggling as well only going 1-5 in the game. Although he did have a lot of very hard contact which is a sign that a player is coming out of his slump. Which I hope he does because the Cubs need every bit of offense they can get.
Player of the game
Todays player of the game to me is Ian Happ, he went 3-4 with 2 RBIs and 2 runs scored. Happ who has had a shaky April is starting to come around, he's not striking out as much anymore and is starting to get more solid contact on the ball.