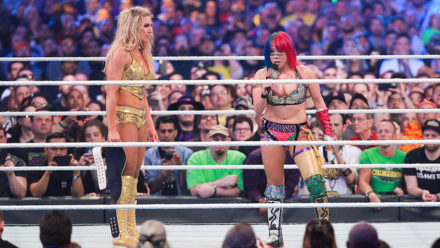 The WWE knows sometimes, how to protect good talent. In most cases, we would not agree with their choices. One choice was Asuka. The Empress of Tomorrow was the longest reigning NXT Women's Champion at 510 days before she relinquished it to NXT General Manager William Regal. She came up to the main roster, on Monday Night Raw, and the streak continued. She even won, with The Miz, in the Mix Match Challenge to keep the streak alive. The Empress even became the sole survivor, at Survivor Series, for the Raw Women's match. The Empress was also the first ever Women's Royal Rumble match winner. However, how much longer could the streak go, before its get old; and we see our favorites fall to the hands of The Empress.
Asuka Streak Ended with a Figure 8
After the Royal Rumble, The Empress kept us guessing, who she was going to choose. Who was it going to be, we all thought? She had two options, Alexa Bliss for the Raw Women's Championship, or Charlotte Flair for the Smackdown's Women's Championship. Asuka appeared on Smackdown Live one night and went to Charlotte. She said, "To be the woman, you have to beat the woman. "
That made it clear who she had chosen. The event came up, at Wrestlemania, it was title vs streak. The WWE Universe was literally at the end of their seats. After what seemed to be a wonderful match, and after a few Asuka locks, and injuring Charlotte's arm.
Flair was able to put Asuka into the Figure 8 with one arm. The Empress tapped out to Charlotte Flair, and the streak had ended with a WOOOO after 914 days of being undefeated. That was the longest winning streak in the WWE ever! After the match, Asuka got a microphone and said these words.
"Charlotte, was Ready for Asuka. Congratulations."
After those words, they hugged it out, in the ring.
Goldberg Speaks About The Streak Ending
WWE Hall of Famer Goldberg commented about the Asuka streak coming to an end.
"It's so hard. I felt bad for her. It's really cool accomplishment. It's unbelievable, but there comes a time when you kind of question its tenure, and when is it the right time to break it. Who is the right person to break it? It was done properly. I do. I think the pressure has been taken off of her. There was a lot of pressure on me at the end of the streak."
Charlotte Flair and Asuka both has made history in WWE, with record-breaking, championships and etc. I am sure as long as those two ladies can still lock in their submission moves; they will keep breaking records. Feel free to comment below and let us know what you think.
Social Media
Follow us on Twitter: @T101Sports
Kayla McCurry
and you may also follow the writer Kayla McCurry: @justbeingk88