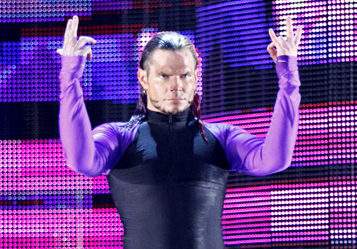 Jeff Hardy Becomes The United States Champ
The Superstar Shake-Up on Monday Night Raw started off rather strong, as WWE United States Champion Jinder Mahal was announced as the first trade to land on the Raw roster.
Mahal would start off making demands, which caused Raw General Manager Kurt Angle to announce the first match of the night, asking anyone on the Raw roster to come down and challenge for the US title. Who should answer the call? None other than Jeff Hardy.
Hardy and Mahal had a great back and forth matchup, with a few close near-falls, but in the end, Hardy would topple "The Modern Day Maharaja". Hitting the "Swanton Bomb", Hardy secured the victory and his very first United States Championship.
Interestingly enough, Jeff Hardy already can claim to be part of the GrandSlam Club, a who's who of superstars past and present who have held every major title that they could hold. The latest to join that club is current Intercontinental Champion Seth Rollins, who joined after his win at WrestleMania.
Who else is in the club?
Hardy is in great company in that club, as he is joined by the likes of Rollins, Bret Hart, Shawn Michaels, Triple H; Rob Van Dam, Kane, Kurt Angle, Eddie Guererro, The Miz, and Edge, to name a few.
Whether you look at the new format (which counts the US, Universal and WWE Titles);  or the old format (which counts either the European Championship or Hardcore Championship, along with the WWE and World Heavyweight Championships). Hardy can be counted on both lists, as his title journey started during the Attitude Era.
With this win, it also establishes that the split between the Hardys is pretty much set in stone unless things don't work between Bray Wyatt and "Woken" Matt.
Social Media:
Follow us on Twitter: @T101Sports
Follow the Writer: @GregNecroBlack
________________________________________________________
If you liked the post on this page, you could donate to support a continuous effort from our creative writers. Your small donation will make a difference. You can learn more about this writer below:
I'm Gregory Black, editor of the Wrestling News Dept. here on TSJ101, and I am someone you can call a student of life. Always looking to learn, and even considering going back to school for what I love. Writing, reporting, and bringing the news to you.
I want to make this happen, would you like to help? Click the button below to "buy me a coffee". I thank you, not only for reading the article but for choosing us for all your sports news.
Any donations made to support a writer go directly to the writer, NOT the site. All donations are exclusively meant to support the journey of this aspiring journalist.